1. Fruquetela's Fresh Fruit Arrangements
At the top of our list are the wonderfully crafted fresh fruit arrangements from Fruquetela. One of the fantastic things about these gifts is their multi-faceted appeal. On one hand, they're visually stunning, with their vibrant hues and creative presentations. It's like giving a bouquet of flowers, except that this bouquet is deliciously edible!
Each arrangement is made from an assortment of fresh fruits, including juicy strawberries, tangy oranges, sweet melons, and succulent grapes. They're also embellished with delectable treats like chocolate-dipped fruit for an extra touch of indulgence.
On the other hand, these arrangements are an excellent source of nutrition for new moms who are often too busy to prepare healthy snacks for themselves. So when you gift a Fruquetela fruit arrangement, you're not just offering something beautiful and tasty – you're providing nourishment and convenience.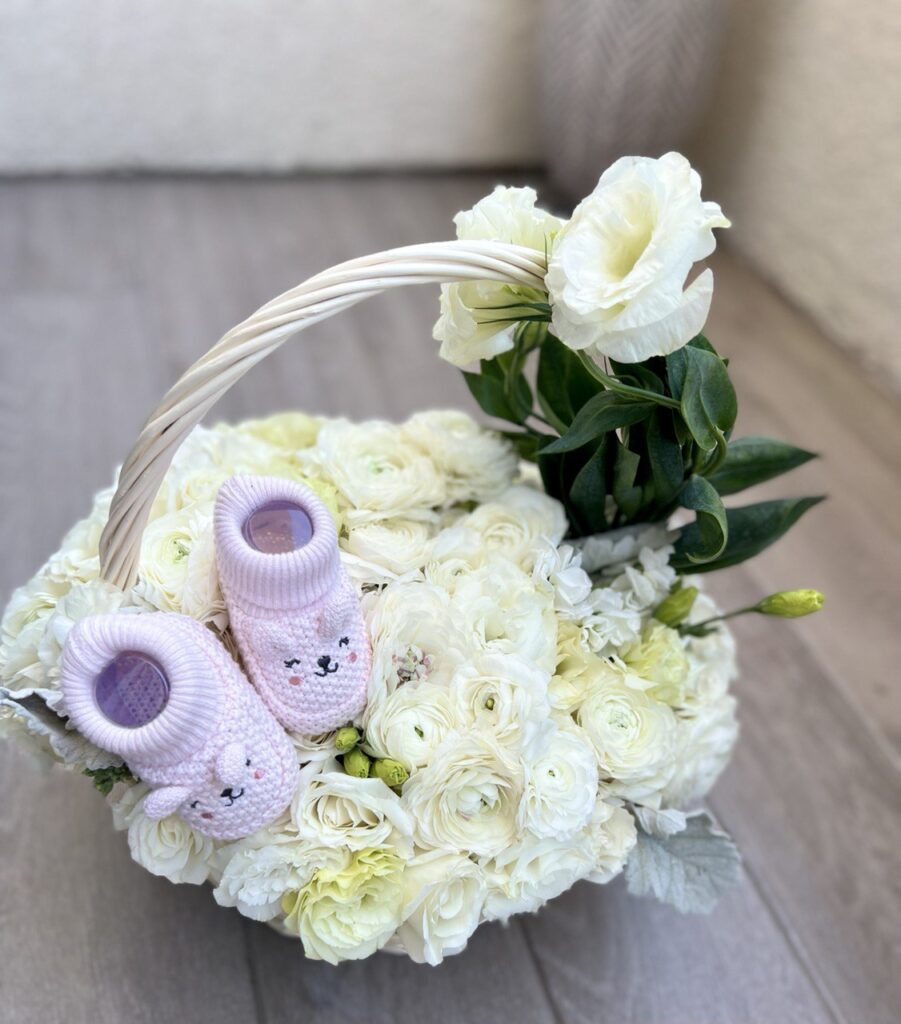 2. Baby Memory Book
A baby memory book is more than just a keepsake; it's a treasure chest of memories. These books provide a beautiful place to store all the baby's 'firsts' – first laugh, first word, first step, and so much more.
The parents will appreciate having a dedicated space where they can document their baby's milestones. Plus, once the child grows up, the book will serve as a heartwarming glimpse into their early years. It's a gift that continues to give joy and evoke nostalgia long after the baby shower.
3. Personalized Baby Blankets
Every newborn needs a good blanket – soft, warm, and perfect for those adorable baby burritos. But why settle for a regular blanket when you can gift a personalized one?
These blankets come with the baby's name or initials embroidered on them, adding a touch of sweetness and individuality. You can even choose a color or pattern that matches the baby's nursery for a truly personalized gift. It's a functional and beautiful gift that the baby can use and the parents can cherish.
4. Baby Clothes Bouquet
When it comes to baby shower gifts, baby clothes are a classic choice. After all, babies need plenty of them! But instead of presenting them in regular store packaging, why not opt for a baby clothes bouquet?
As the name suggests, a baby clothes bouquet is a collection of baby clothes arranged to look like a flower bouquet. It's a unique and creative way to gift something practical yet delightful.
5. Diaper Subscription
Let's face it: new parents can never have enough diapers. It's one thing that they're going to need in large quantities for the first few years of their child's life. So, a diaper subscription service can be a real lifesaver.
With a diaper subscription, the parents will receive a new pack of diapers right at their doorstep regularly. It's a practical and thoughtful gift that keeps on giving, taking one worry off the new parents' minds.
6. Baby Care Package from Fruquetela
Fruquetela's offerings go beyond their delightful fruit arrangements. They also offer lovely baby care packages, making them a one-stop-shop for baby shower gifts.
Their baby care packages are filled with essentials like soft towels, gentle baby care products, comfortable clothing, and even some treats for the parents. It's a comprehensive gift that covers a range of needs, making it an excellent choice for new parents.
7. Baby's First Library
A love for reading starts at a young age. So, gifting a set of classic children's books can be a wonderful way to start the baby's first library. You can select books that you loved as a child or those that come highly recommended.
Each time the parents pick up one of these books to read to their baby, they'll be reminded of your thoughtful gift. And as the child grows up, they'll have a collection of books to cherish.
8. Hand and Footprint Frame Kit
Babies grow up so fast, and before the parents know it, their tiny little hands and feet become not-so-tiny anymore. That's why a hand and footprint frame kit can be such a touching gift.
These kits come with safe, non-toxic clay that can be used to take impressions of the baby's hand and foot. These impressions can then be framed and kept as a keepsake, serving as a reminder of how small their baby once was.
9. Noise Machine
Sleep can be a luxury for new parents, especially during the first few months. That's where a noise machine can come in handy. These machines play soothing sounds that can help lull the baby to sleep, providing much-needed rest for both the baby and the parents.
Many noise machines come with multiple sound options like white noise, lullabies, nature sounds, and more. Some even have a built-in nightlight, making them a versatile addition to the baby's nursery.
10. Fruquetela Gift Cards
Finally, if you're unsure what to gift, a Fruquetela gift card is a foolproof option. This way, the parents can select what they want or need. They might choose one of Fruquetela's beautiful fruit arrangements, a baby care package, or even a mix of both.
In conclusion, from memorable keepsakes to practical items, and from delicious treats to relaxation aids, this list offers a wide range of baby shower and newborn gift ideas. Remember, the best gifts come from the heart and are those that make life a little easier, more comfortable, or more enjoyable for the new parents and their baby.
Visit Fruquetela now to find the perfect gift for the baby shower or newborn celebration you're attending